Following the success of the inaugural forum in 2020, The Summit Forum over China's Wine & Spirits Market returned this year and took place on December 15th, 2021 in Shanghai, China.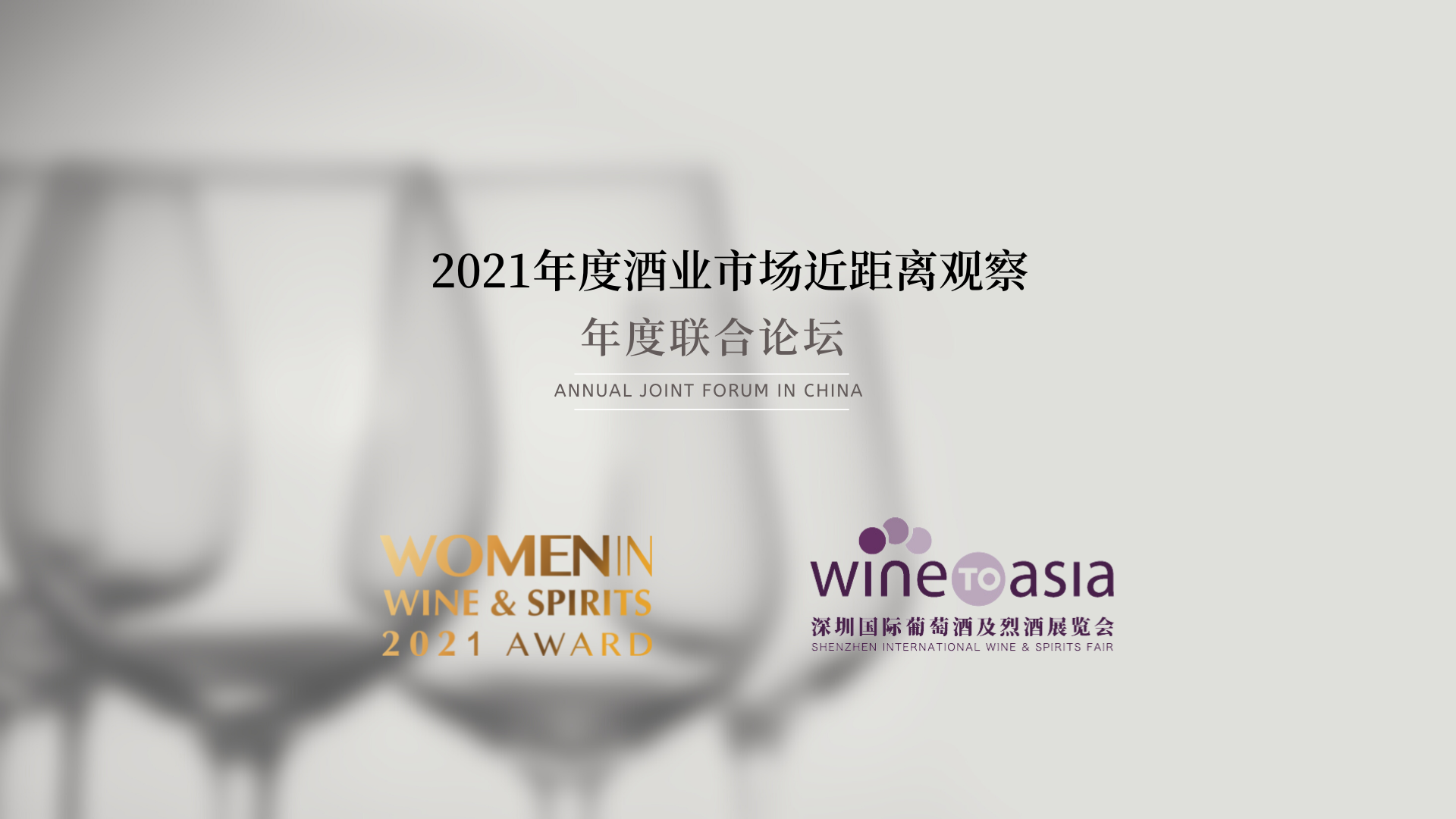 The Summit Forum, held by Women in Wine & Spirits and Wine to Asia, was comprised of keynotes speeches on wine & spirits market trends in China, rapidly-growing spirits segments, the evolution of digital retailing, and roundtable talks over imported & domestic wines. The speakers from international drink brands, iconic local wineries and leading e-commerce players shared their insights & analysis over China's drink markets in 2021. 
Lorenzo Ricardi | MD of Wine to Asia
As the first of its kind,  Women in Wine & Spirits Award (WINWSA) was initiated by Michelle Liu in January 2020, with the singular mission: to recognize, connect and honor the accomplished female professionals who have contributed to shaping the wine & spirits industry today. As part of its annual program, WINWSA forum is committed to establishing a platform for the exchange of innovative development, connecting local and global professionals and think tanks, focusing on the next moves of the wine & spirits industry, paying attention to the consumer behavioral evolvement, grasping local market transformations and embracing changes through global vision.
Topic1: General Trends 2021: Accelerated Changes
The room was complete with enthusiastic audiences as the keywords summarized to echo the market's evolution. The post-Covid-19 statistics on wine & spirits consumption showed the normalization of the market in China, followed by a sharp increase in certain drink categories.  The market is further fragmented, with more new niche sections emerging, such as small wine regions, natural wines and RTD cocktails.
2021 Joint Forum
Michelle Liu, Founder of WINWSA Presented Keywords Summary over Drink Market Trends in 2021
Some of the significant market shifts and changes are:
– Omni-channel development at full speed;
– Premiumisation in top-tier cities;
– Lower-tier cities revitalization;
– Preference on branded drinks;
– Sharp increase in domestic and imported spirits;
– The emergence of new categories;
Kent Tseng | Advisor of WINWSA 2021
Topic 2: Imported Wines VS. Domestic Wines
As the millennial generation, even the Z generation (born after 95's) move front and center, wine marketers are working overtime to cultivate their loyalty. The millennial generation is on the whole very interested in health and well-being, and this has found its way into the beverage market as well. Beverages which offer low sugar, low calorie, low alcohol ways to enjoy a drink became popular.
Matthew Gong | General Communications and Corporate Affairs Director ASC Fine Wines
A webinar around "imported wines vs. domestic wines" was conducted by the dial-in guest speakers from different places over China. The Chinese wine market continued to decline in 2021 in size as the latest data has shown, indicating a weak increase. The challenges of the market are incremental: Not only is the cost of shipping wine to China drifting ever upward but importers face departure and customs delays that translate to costs for everything from reefer containers plugged in for extra weeks to sales lost to wine arriving late for, say, holiday sales. The tariff issue has put an end to Australia's run as the top bottled wine source. We have seen the new ranking of importing countries, led by France and Chile.
Roundtable Speaker
Emma Ding | Founder of Jade Vineyard
Does the situation help drive interest in local wine? The answer is certain. Unable to go abroad, travel-thirsty consumers are discovering their homeland. Professor Ma Hui Qin pointed out the importance of "regional" efforts to push for the public awareness of the origin, giving the successful case study of Ning Xia. However, for savvy consumers, the price needs to be justified by the perception of image and quality. In this case, "The consumers in Guang Dong province are still driven by the quality / habitual flavors." Added by Sally Chen, the Secretary General of Guang Dong Wine Industry Association. 
Roundtable Speaker
Sally Chen | Secretary General of Wine Branch of Guangdong Wine Industry Association
"For a brand to just be local, it must also offer quality and value". Said Emma Ding, owner of Jade Vineyard from Ning Xia, "we have to nurture a brand and learn from international peers."
Huiqin Ma | Professor of China Agriculture University
WINWSA 2021 Newsletter
Topic3: Baijiu and Whisky on the Rise
Wine consumption still averages under a bottle per year in China. But the market has seen a significant increase in imported spirits, led by Brandy and Whisky. According to a report released by the China Chamber of Commerce For Import and Export of Foodstuffs, Native Produce And Animal (CFNA), the volume of imported spirits grew by almost 50% in 2021 and overtakes wine to become the largest imported alcoholic beverage category.
From Left to Right
Alvin Huang | MD of Vinehoo
Amanda Lin | Associate Director of EC from MHD
Michelle Liu | Founder of WINWSA
 Qin Lin | VP of China Whisky Association
Whisky is a rapidly growing segment of the spirits market in China. Along with the economic development of China, interest in products from other parts of the world is growing, and the history of Scotch whisky stimulates the imagination of the Chinese. "Demand is growing especially among high-income, urbanized consumers, especially young adults." Said Qin Lin, VP of China Whisky Association, "we have witnessed the premiumization and upgrading in first-tier cities, while more space to grow in 2nd-tier and 3rd-tier cities among the young consumers."
Speaker: Lijun Yuan | Director of Shanghai Consumer Info Center
The potential of China's whisky market attracted international conglomerates such as Pernod Ricard and Diageo to further invest in their ambitious local whisky projects. The bet on China follows the growing popularity and globally acclaimed quality of Japanese and Taiwanese single malts in recent years.
The national spirit – Baijiu – also sees a promising rise in 2021. According to a survey conducted recently, among baijiu consumers aging from 37 to 40 years old, around 28 percent said to have consumed baijiu within the last six months. Meanwhile, among respondents aging from 18 to 22 years, about 14 percent said they have drunk baijiu in the last half-year, indicating the young consumers were encouraged to be more receptive to it.
Speaker: Lijun Yuan | Director of Shanghai Consumer Info Center
"Known for the structural issue in terms of its target consumers, Baijiu has been experiencing innovations in terms of product concept and branding strategy among the prominent brands, with a clear intention to win back a millennial generation and younger groups of wealthy consumers. " said Yuan Li Jun, Director of Shanghai Business Information Center.
Topic4: New Retail in China's Drink Market
The explosion in smart phone use, social media apps and mobile e-commerce has facilitated this shift in buying habits and meant more off-premise sales of all alcoholic drinks are now ordered online in China. The e-commerce channel has proved particularly popular for wine sales in China.
"The consumer trends shifted." Amanda Lim, Associated Director of EC from MHD concluded, "the consumer-centric approach has been the focus for several years and everyone talked about the importance of being omnipresent-online or offline, we definitely see these are accelerated and those companies who moved first secured the leadership."
Speaker: Amanda Lin | Associated Director of EC from MHD
China has become the benchmark for omnichannel retailing. The business model, which aims to meet customers' diversified shopping demand whenever and wherever they need, asks for optimized supply chain capacities to deliver state-of-the-art shopping experiences. There have been more and more new online touchpoints such as Tiktok, Kuaishou. But the cost of pushing sales or digital visibility is getting much higher compared to the beginning of the evolution 4-5 years ago.
"As one of the pioneers in EC on wine business, we now reshape our strategy to return back to offline, by providing consumer experiences via physical outlets." Said Alvin Huang, Chairman of Vinehoo. "There are still lots of potential for offline experience: be wine bars or restaurants with strong drink list. After all, we have to strengthen the links and keep constant dialogues with consumers, and I believe a 360-degree interaction will be the next focus."
Speaker: Alvin Huang | MD of Vinehoo
Gus Zhu | Master of Wine
Advisor of WINWSA 2021
WINWSA 2021 Newsletter
· E N D ·
More Information:
https://mp.weixin.qq.com/s/arT-V-2LOzieAM2G5Cez0Q
https://mp.weixin.qq.com/s/JZxDMtCKNHk-DxiLtrfCPw